MoMileSplit.com to Sponsor High School All Star Races at Festival of Miles
Athletes from across the Midwest expected to compete ST. LOUIS - (March 19, 2012) – Big River Running Company is excited to welcome MoMileSplit.com as a new sponsor to the fifth annual Big River Festival of Miles presented by Under Armour. MoMileSplit.com, the unparalleled leader in high school cross country and track and field coverage in the State of Missouri, will be the presenting sponsor for the boy's and girl's High School All Star Races at the Festival of Miles on Thursday evening May 31 at Saint Louis University High School. The high school races were new to the event in 2011 and produced two of the most exciting moments of the night with Westminster Christian's Daniel Everett winning the boys race in four minutes, seven seconds and Nerinx Hall's Colleen Quigley running 4:52 to take home the girl's title. MoMileSplit.com webmaster Paul Everett said he cannot wait for this year's event.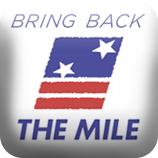 Full Story on Bring Back the Mile...